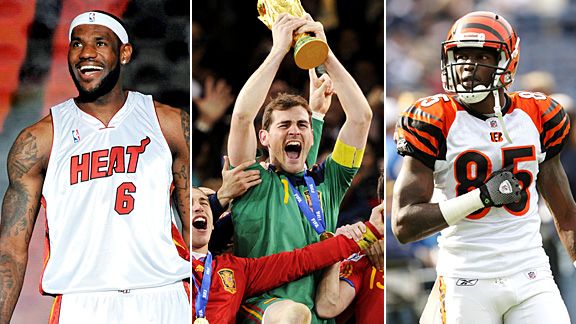 Getty ImagesThe Jock-o-sphere has been spinning wildly with fans who despise LeBron James still pouring their energy into him, World Cup Internet traffic records and an Ochocinco iPad app.
Back in May, I highlighted a number of fans' websites courting LeBron James to their cities.
But now one has changed its tune after "The Decision."
InLeBronWeTrust.com, a site run by Cleveland Cavaliers fan Brandon George that featured him doing off-the-wall challenges to keep LeBron in Cleveland, now redirects to InLeBronWeTrusted.com.
George has also changed the focus of the site.
Instead of completing 23 challenges in an effort to keep James, he's doing the eight remaining items on his list to show LeBron he chose wrong, including donating all his LeBron memorabilia to charity.
"I was 100 percent convinced LeBron was going to re-sign with the Cavs, so I'd left some challenges to thank him after he made his decision," George wrote in an e-mail Wednesday. "But I never expected him and his ego to make a mockery out of Cleveland in a one-hour national TV special. So now it's time to show LeBron he screwed up.
"It's not where he chose to go that bothers me. It's how he chose to do it."