"Major League," the 1989 comedy by David S. Ward that documented a rag-tag bunch of fictitious Cleveland Indians, was undoubtedly on heavy rotation in DVD players around the country this weekend.
Why? Actor James Gammon, who played the team's gravel-voiced manager Lou Brown, died at age 70 on Friday.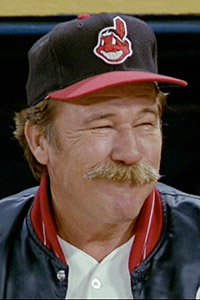 Beckett MediaActor James Gammon, known as manager Lou Brown in "Major League", died on Friday.
Most of Brown's memorable lines can't be published here, but the longtime manager of the Toledo Mud Hens and -- of course -- Tire World made simple phrases like "I dunno" "Give 'em the heater" and "Shut up, Dorn!" staples of many a baseball-meets pop culture soundtrack.
You see, despite there being two pretty successful "Major League" movies -- and a third from the late 1990s you probably don't remember starring Scott Bakula -- there wasn't much, or really any, merchandising done for the franchise. In fact, the most basic of memorabilia -- the baseball card -- barely exists for anything officially affiliated with the films.
James Gammon appears on just one baseball card. Period. And it's one I've never seen except for in one fuzzy random snapshot. Gammon appears in an 11-card set from 1989 that shows the actors in the first film. It was reportedly given away to fans who helped pack the stadium during filming in Milwaukee.
That's right, Lou Brown, Pedro Cerrano, Roger Dorn, Ricky Vaughn and crew don't appear in uniform on baseball cards -- but James Gammon, Dennis Haysbert, Corbin Bernsen and Charlie Sheen do. The actors' names are on the cards that have a distinctly 1974 Topps design, but with blue borders and a Super Bubble bubble gum logo attached.
And despite being made in 1989 -- when everyone and their mother seemingly tucked away a truckload of everything Sam's Club-style for future riches -- I've never seen a set in person. Not one on eBay, not one at a card show -- never.
I've contacted many a dealer. I've even contacted Super Bubble. The result? I'm Clew Haywood and I just swung and missed on a 101-mph "Wild Thing" fastball.