Remember when ESPN's Bill Simmons reduced Theo Ratliff's NBA relevance to his massive expiring contract?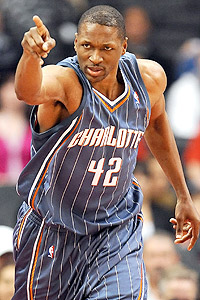 Lisa Blumenfeld/Getty ImagesTheo Ratliff will move his shot-blocking talents to the Lakers.
That was three contracts ago.
That's right, three. The Sixers, who traded Ratliff in 2001, got nostalgic about him once he was available for $1.26 million in 2008. The Bobcats, whose jerseys look to be from the Steve Harvey collection, fittingly brought on the middle-aged shot-blocker last season for roughly the same price. Now, and again at liquidation prices, Ratliff has a deal with the Lakers.
It's amazing how much better a player looks after an 80-plus percent pay cut, isn't it? When Ratliff was pulling down $11.7 million per season -- but just 7.3 boards a game -- he looked like he his knees creaked when he walked. Now, he just needs enough energy to be really tall and play movie-star bingo with Luke Walton during home games.
There's no reason to resent a man for being overpaid, but I'd be lying if I didn't say that a contract more connected with reality looks better on Ratliff. Seeing how he was hurt in '01, which was his previous best chance to win a championship, a ring would shine just as bright at his current salary.