When Alex Rodriguez joins the 600 home run club -- whether it's this week or sometime in September -- he will already have topped the biggest feats of them all when it comes to baseball's elite sluggers.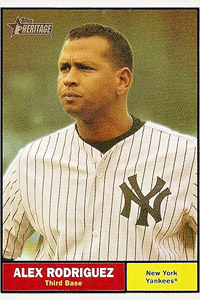 AP Photo/David J. PhillipAlex Rodriguez has more trading cards than anyone else in the 600 home run club.
He already has passed Barry Bonds, Hank Aaron, Babe Ruth, Willie Mays and the rest of the 600 club for the number of baseball cards he appears on.
In fact, he did it a long time ago.
A-Rod has graced more than 17,800 different cards since 1993, an average of more than 1,000 a season. Aaron has just 1,752 different cards, while Ruth appears on little more than 3,600 and Mays has roughly 2,400. The biggest irony to consider there? Unlike decades ago, retirement doesn't stop a player from having a baseball card.
It's a product of the post-1980s card explosion as well as other moves by manufacturers and MLB Properties, baseball's licensing arm. For a long time, more was better and cardboard gluttony ruled the land as several companies produced countless sets of cards each year. However, too much of a good thing has sparked a newer trend -- more different cards with fewer copies of those cards available, many times as few as one serial-numbered copy made. (See Stephen Strasburg and his $16,000 baseball card, which has since been re-sold for more than $20K.