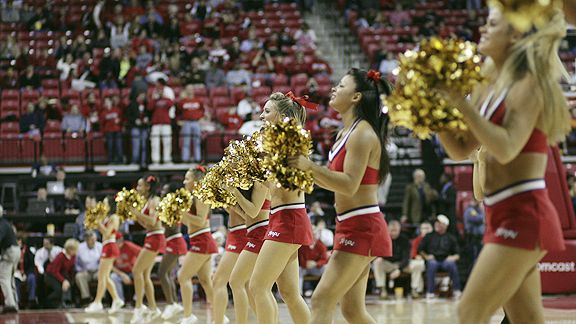 AP Photo/Rob CarrIn Connecticut, competitive cheerleading was deemed not a sport. What else out there isn't a sport?
It's time.
Time to decide whether cheerleading really is a sport. Time to decide how many other "recreational activities" are out there masquerading as real sports. Does if have to have a ball? Does there have to be a score? Can French judges decide who wins or loses? If you can smoke and drink beer while playing, is that automatic disqualification?
It's time for you to make the call. We're asking you to name up to five activities that others may call a sport but you know are not. And we welcome a short comment on what's wrong with each. Send your choices to osogreene@aol.com -- including your first name, initial of your last name and your location.
What made this topical is the recent ruling by a federal judge in Connecticut who said competitive cheerleading is not an official sport colleges can use to meet gender-equality requirements. Volleyball players at Quinnipiac University filed a lawsuit because the school was going to eliminate the women's volleyball team and replace it with a less expensive competitive cheering squad.
The university claimed adding a cheerleading team with keep it in compliance with Title IX, the 1972 federal law that mandates equal opportunities for men and women in athletics. But the federal judge did not agree, stating cheerleading "is still too underdeveloped and disorganized to be treated as offering genuine varsity athletic participation opportunities for students."
And there are so many other activities to consider. How about golf, weightlifting, diving, horse racing, gymnastics, badminton, auto racing, crew, sailing, surfing, water skiing, archery, bull riding, synchronized swimming, bowling, curling, X Games, shuffleboard, cricket, table tennis, miniature golf and, of course, competitive eating? Plus cheerleading or anything else you think should be banned from any list of sports.
Sport or not a sport? Remember, you can choose up to five for banishment. We'll tally the votes and announce our "Top 10 Activities Not Really A Sport" list on Thursday.
Who needs a federal judge? You make the call and send it to osogreene@aol.com.