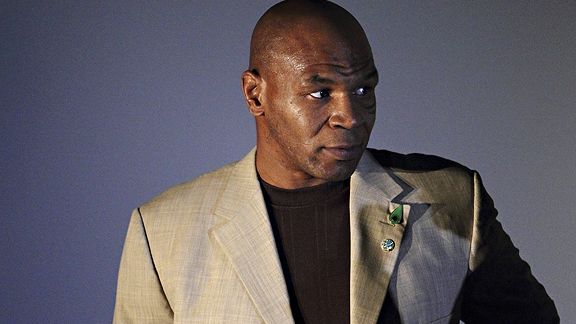 AP Photo/Nikita BassovAfter the death of his daughter, Mike Tyson said he has become a changed man.
The idea of Mike Tyson showing up somewhat unexpectedly at a radio studio in Las Vegas immediately after a visit to the dentist may sound like a great opening scene to the "Hangover 2", but when that actually transpired, listeners were treated to a fascinating look into the life and transformation of a man of great extremes. Mike Tyson's story of dedication, training, success, failure, desperation and out-of-control antics is well-known and compelling in its own right. Its latest chapter, though, paints the poignant picture of a very different man, who in many ways, is still the same.
Mike Tyson joined Gridlock on ESPN Radio Las Vegas to talk about losing 130 pounds, his past life, his family, being in the "Hangover", if he would box again and being 350 pounds.
On losing about 130 pounds:
"I became a vegan. Vegan is where no animal products. No livestock products. Nothing. I just did a lot of training and try to become more faithful in life. I wanted a different life. I felt like I was dying. I had an incident in life where I lost my 4 year old daughter in a tragic accident at home. I don't know. I didn't want to live anymore. So I said, that in order to go there, I had to change my life. I am going to change everything I dislike about myself. I changed everything that I was as a human being. I started that journey in October or November. … I don't smoke anymore. I wanted to give up everything. I had to change my life. I didn't have a problem with drugs or nothing. I had a problem with thinking. My thinking was broken. That was the solution of my broken thinking using drugs and living crazy. It was just the way I was thinking."
• Click here for a transcript of highlights from the interview