When New York Jets linebacker Bart Scott wore a T-shirt at training camp a couple days ago that read, "Known To Do The Impossible Like Broadway Joe," little did he know the author of that famous line was paying close attention -- although thousands of miles away.
"It feels good to know that a line from a song I did over 15 years ago still has some influence in the world," the author said.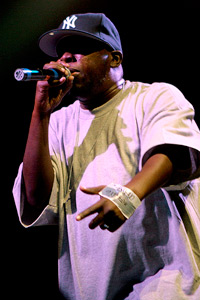 Getty ImagesPhife Dawg's passion for sports still comes through in his lyrics.
A lot of people probably didn't know the origins of Scott's T-shirt, which he wore the day Joe Namath dropped by Jets camp.
Scott's T-shirt slogan was first uttered by Phife Dawg, a member of the group A Tribe Called Quest, one of the greatest rap groups in hip-hop history.
Phife, whose real name is Malik Taylor, spit the Broadway Joe line in "Scenario," a classic Tribe song and even though he was in Japan when he read about Scott's T-shirt, the avid Jets fan couldn't have been prouder.
"I think it's an honor that a player of his magnitude would use a quote from a song I wrote to inspire himself and his teammates," Phife said via e-mail.
Phife, who is on tour with Tribe in Australia, is a passionate sports fan. He and his partner, "The Gambler," have a sports blog called The FANalysts, which he hopes will one day become a sports talk radio show.
"If you check my track record," Phife said, "I've probably referenced more sports than any other MC throughout rap history."
As he follows his sports dream, Phife continues to make music. Phife is expected to release a solo album this year called, "Songs In The Key Of Phife," and actor Michael Rapaport also is releasing a documentary about Tribe in 2010, too.
As of now, Phife said Scott doesn't have to worry about him pursuing him for a royalty check.
But if the Jets make it to the Super Bowl, Phife has a request: "I hope that one song line can be the theme for the Jets' season and I can perform the song at a Jets game."