Chutzpah? In spades. Common sense? Not an ounce. Citing his previous high school basketball experience -- plus the fact that he regularly attended Denver Nuggets games -- Miami Dolphins receiver Brandon Marshall said that if the NFL suffers a lockout next season, he'll simply take his talents to the NBA.
"My first team will be the Nuggets and my second team will be the [Miami] Heat," Marshall told ESPN's Adam Schefter. "I'm serious."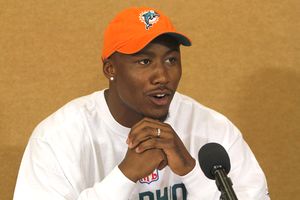 AP Photo/J Pat CarterBrandon Marshall is thinking of his future: the NBA.
Maybe so. Still, Marshall seems confused, if not downright delusional. For one, making a pro basketball roster is not as easy creating yourself with all 99 ratings in "NBA 2K"; more to the point, history shows that while great football players seldom light up the hardwood, mediocre basketball players often dominate the gridiron. Consider:
Tony Gonzalez
In basketball: Averaged 6.8 points and 4.8 rebounds as an undersized power forward for Cal.
In football: One of the best pass-catching tight ends in NFL history. Was named to the league's 2000s All-Decade Team and is a sure-fire future Pro Football Hall of Famer.
Antonio Gates
In basketball: Undersized power forward left mid-major Kent State as the school's sixth all-time leading scorer but was not considered NBA material.
In football: Despite not playing football since high school, was signed by San Diego Chargers as undrafted free agent; quickly became one of the NFL's top tight ends and later was named to league's 2000s All-Decade Team.
Julius Peppers
In basketball: Walk-on, undersized power forward -- detecting a pattern? -- for North Carolina averaged 7.1 ppg in second and final year of major college hoops.
In football: No. 2 overall pick in 2002 NFL Draft became league defensive rookie of the year, was named to five Pro Bowls and has amassed 81 sacks as a pass-rushing defensive end.
Charlie Ward
In football: Florida State quarterback won 1993 Heisman Trophy and was later elected to the College Football Hall of Fame.
In basketball: Averaged 6.3 ppg and 4.0 apg during 10-year career as journeyman NBA point guard.
Terrell Owens
In football: Six-time Pro Bowl receiver; probable future Hall of Famer; reality television semi-star; children's author; driveway sit-up aficionado.
In basketball: Had undistinguished side career for a now-defunct USBL minor league basketball franchise. Also, this.