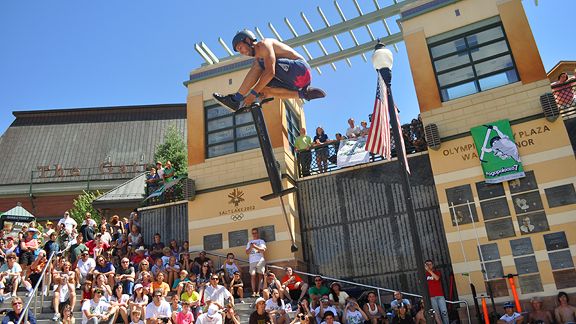 Courtesy of Xpogo.com More than 30 people competed at the seventh-annual world championship of extreme pogo.
The pogo stick as we know it bounced into existence around 1918, and it's been thrilling kind of entertaining kids ever since. But in the past 10 years or so, the pogo stick has experienced an unexpected renaissance, and a new use has sent its popularity -- at least among a certain set -- increasing by leaps and bounds.
Formerly wimpy toy, meet today's teenager. Raised on extreme sports like skateboarding, BMX and FMX, a small but growing subset of teenagers -- we'll call them Generation X Games -- is literally taking pogoing to new heights.
Extreme pogo.
Confused? Don't be. It's exactly what it sounds like. The 34 competitors in this past weekend's Pogopalooza 7, the seventh annual edition of the self-proclaimed "World Championship of Extreme Pogo," took part in four different disciplines: big air, high jump, tech and best trick. They did flips, spins and grinds. They soared as high as nine and a half feet into the air.
They'll post their best tricks -- and, of course, their best spills -- on YouTube, and share them on extreme pogo websites.
And yes, some of them took pretty nasty spills on the concrete in Salt Lake City, Utah, where this year's competition was held. Like Dalton Smith, at 13 the youngest competitor in Pogopalooza history, who under-rotated while attempting a double backflip dismount and ended up with two smashed up kneecaps, a broken nose and a one-night stay in the hospital.