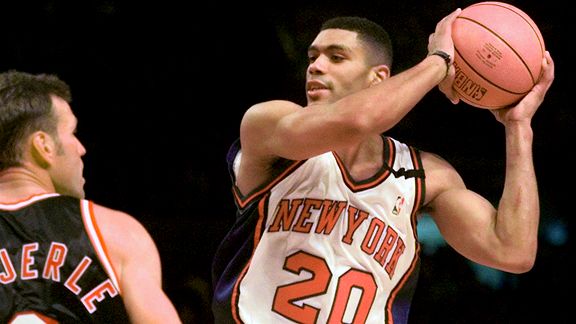 AP Photo/Ron FrehmAllan Houston had a long career in the NBA and has graced our All-Space Team.
Space: The final frontier. Today, we boldly go where no All-Name Team has gone before.
Ours is a group of eight. Just like the planets. (Sorry, Pluto. Take up your case with the International Astronomical Union, which, come to think of it, sounds very much like an association describing the salary structure of the Yankees and Red Sox.)
Neill Armstrong: For the first 43 years of life, Neill Armstrong wasn't confused with anybody else. He was a football coach, and nobody thought anything of it when they saw or heard his name. That all changed in July of 1969. Neill Armstrong was entering his sixth season as head coach of the Edmonton Eskimos of the CFL when Neil Armstrong had the audacity to walk on the moon. Silly one-liners abounded when the coach became the head man of the Chicago Bears in 1978. More than 30 years later, a dozen people have done the moonwalk, but Neill Armstrong is one of only two who have been head coaches in the NFL and CFL. (Bud Grant is the other.) So there.
Mars Blackmon: Character portrayed by Spike Lee in the 1986 film "She's Gotta Have It" and subsequent Nike commercials that shot Lee into the cultural mainstream and enhanced Michael Jordan's status as the leading pitchman in American sports. Lee recently said he chose the name for the persona after his mother told him that a paternal ancestor from several generations back was named Mars.
Allan Houston: The former Pistons and Knicks guard wasn't a high flyer, but opponents often had a problem guarding him over a 12-year career that featured 14,551 points. In case you're wondering, that's one point for every 16.4 miles between Mission Control and the moon.