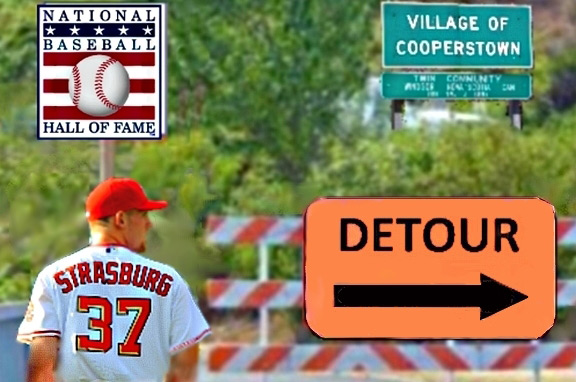 Hampton Stevens
The "Madden NFL" cover curse. The Sports Illustrated cover jinx. And now … the Washington, D.C., sports star hex?
Believe it.
When the Washington Nationals announced that pitching phenom Stephen Strasburg has a torn elbow ligament and likely will undergo Tommy John surgery, the team's fans were distraught, with some observers even worrying about the very future of baseball.
The real question is this: Which major sports curse is the most pernicious? Let's take a look:
The Madden Curse
Victims: Daunte Culpepper, Michael Vick, Barry Sanders, Marshall Faulk, Donovan McNabb, Shaun Alexander, Vince Young, Brett Favre.
Rule-proving exception: Larry Fitzgerald -- but only because he shared the cover with Troy Polamalu, who missed most of the season with injuries!
Overall power: Strong. Football is a violent sport, injuries happen and, yeah, playing for the Detroit Lions would make anyone want to walk away in their prime. But still, there's some bad mojo risin', and if you're unconvinced, ask yourself this -- is it simply marketing coincidence that John Madden himself no longer appears on the cover of his own game?
The SI Curse
Victims: Better question -- who hasn't been victimized?
Rule-proving exception: When the magazine called for the University of Miami to drop its football program in the mid-1990s, and the program instead won a national title at the 2002 Rose Bowl. In essence, a reverse curse, which actually offers more proof.
Overall power: Moderately strong. Plenty of athletes -- including Michael Jordan, if you don't count baseball -- have thrived despite numerous cover appearances, and SI's own cover story on the topic downplayed the issue, citing confirmation bias and regression to the mean. On the other hand, has the mag's circulation gone up or down since that same cover story? We rest our case.
The D.C. Curse
Victims: Steve Spurrier, Michael Jordan, Kwame Brown, Chamique Holdsclaw, Heath Shuler, Mitch Richmond, Gilbert Arenas, Bruce Smith, Jaromir Jagr, Jerry Stackhouse, Dana Stubblefield, Deion Sanders, Albert Haynesworth, Joe Gibbs (II), Freddy Adu, the Artists Formerly Known as the Montreal Expos, Mia Hamm and her entire freaking soccer league, Strasburg. And a bunch of others I'd list if I wasn't tired of typing.
Rule-proving exception: Ted Leonsis. Though suburban D.C.-based AOL didn't exactly do wonders for New York-based Time Warner.
Overall power: A star-destroying black hole of unimaginable proportions, the Washington curse goes beyond sports, touching everything from reality TV (worst seasons ever for "The Real World," "Top Chef" and "The Real Housewives") to politics (the reputation of any popular pol who stays in town long enough). Game, set, match.