Terrell Owens started it all with a celebratory Twitter post. Right after signing with the Cincinnati Bengals, Owens proclaimed that he was Batman to Chad Ochocinco's Robin, and a story line was born.
The Cincinnati Enquirer, looking for a cover for its football preview section, was looking to see how far the new teammates would take the joke.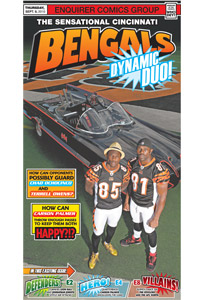 Courtesy of Cincinnati EnquirerThe Cincinnati Enquirer's Bengals preview section arrives Thursday.
"Our original concept was to put those two guys in costume," Enquirer sports editor Barry Forbis said. "They're both crazy enough, they just might do it."
But Forbis knew he was facing an uphill battle getting one of the NFL's two biggest egos to dress up as a sidekick.
"We figured we'd never get them in a Robin costume," Forbis said. "They both want to be Batman."
Sure enough, Ochocinco declined to wear the Robin costume, and the paper was looking for another option. But on the same day he declined, the Enquirer coincidentally got an unusual call from a reader that had a replica of the Batmobile from the old Adam West television series.
"This guy Chris Woodside from near here, from a suburb, contacted us because he wanted to invite them to ride to a game with him in the Batmobile," Forbis said. "But I said, 'Hey, I got a better idea for you.'"
Forbis talked to the public relations staff with the Bengals and got approval to get the car in the stadium, right on the edge of the field. And Owens and Ochocinco were excited about the idea.
The Enquirer has a video of the photo shoot, and the photos have been posted all over the Internet, thanks to Ochocinco's large Twitter following.
"Ochocinco was tweeting about it ... and he's got a lot more followers than we do," Forbis said. "It's good when your subjects take care of your marketing."
Forbis, a newspaper veteran, says the cover turned into the best special section cover he's ever done.
"Who knew a Batmobile was going to fall out of the sky? That makes you look a lot smarter."