Welcome to the premiere edition of the Page 2 Pregame Flyover, your source for aerial reconnaissance of every NFL game -- even the ones in domes. We'll unleash the full power of this column Friday, when we preview the first weekend of the 2010 season, but for now let's focus on tonight's Kickoff Game in New Orleans between the Saints and the Vikings. It's a strange matchup the NFL has chosen to start this new campaign, considering Football Outsiders predicts neither one of these teams will even make the playoffs. I mean, really, who wants to start the season watching two lame ducks? Ya know, other than the people going to Sunday's Cleveland-Tampa Bay game? Well, at least the fans in New Orleans get to watch a parade and listen to some music.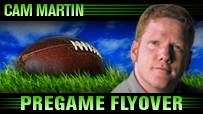 What to look for in the pregame show: The Dave Matthews Band and Taylor Swift -- two favorites in every NFL locker room -- will be headlining a concert at Jackson Square in New Orleans. Matthews and Swift are known for being safe and consumable for mainstream America; it's when Matthews ends his shows -- and perhaps his driver dumps the contents of his tour bus latrine onto unsuspecting sightseers -- that things can get a little edgy.
What to look from the Saints and their fans: New Orleans residents are unfamiliar with the whole partying thing, so prepare to witness some awkward gesticulations and torso maneuvers from players and fans alike. Saints fans are still largely in disbelief that their team -- long known as the Aints because of their ineptitude -- won a Super Bowl, so bear with them. This is the seventh straight year the NFL has honored the Super Bowl champions with the opening game in their stadium on a Thursday in prime time. Will next year's event take place in Cleveland or Detroit or Oakland? It's possible -- just as it's possible that Sammi Sweetheart could spend more time crying in bed on "Jersey Shore."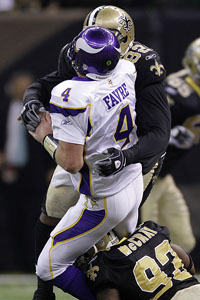 AP Photo/Mark HumphreyThink Brett Favre wants another crack at the Saints after last season's NFC Championship Game?
What to look for from Drew Brees: Brees, who enjoyed a whirlwind experience after winning the Super Bowl -- appearing on Oprah, writing a book -- was reportedly suffering handshake fatigue and might spend the first few series throwing left-handed. Saints fans should not be alarmed: The team has not re-signed Mark Brunell.
What to look for from Reggie Bush: Hopefully a Heisman pose if he scores a touchdown.
What to look for from Saints left tackle Jermon Bushrod: Empty hands as he flails to grab the air where Jared Allen's mullet used to be.
What to look for from the Saints' defense: High-low tackles that increase the playing time of Tarvaris Jackson.
What to look for from the Vikings: They're going to be really amped up to gain a measure of revenge for last year's loss to New Orleans in the NFC Championship Game. Minnesota again has a chance to break its tie with the Bills and become the first team to lose five Super Bowls before winning one, something Brett Favre denied them in 2009 when he threw a crucial fourth-quarter interception against the Saints.
What to look for from Brett Favre: Gunslinging! Old No. 4 needs three touchdown passes to become the first quarterback with 500 or more in his career. He needs no interceptions to become the first quarterback with 317 or more in his career.
What to look for from Adrian Peterson: Hopefully a lot of running, particularly during crunch time when a quarterback's throw across his body is foolish and unnecessary and might keep the team from losing in new and creative ways.