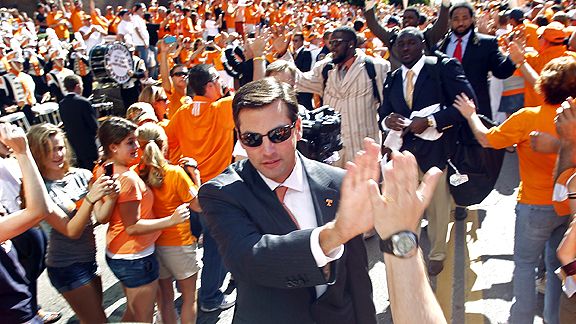 AP Photo/Wade PayneI'm sure Derek Dooley is hoping all these fans washed their hands before high-fiving him.
Cleanliness may be next to Godliness, but Derek Dooley just wants his players to stop getting staph infections.
That's why the Tennessee head football coach took time earlier this week to diagram some plays with a bar of soap.
"We had, I told them, the worst shower discipline of any team I've ever been around," Dooley said. "So we talked a little bit about application of soap to the rag and making sure you hit all your body."
Coach John Wooden used to meticulously teach his players how to put on their shoes, but this is something else. One can only imagine the look on the Volunteers faces as their first year head coach mimed the proper way to take a shower. But Dooley hopes this lesson in detail will spill over to how his players approach everything.
"You know, you can neglect it trying to cut corners, and it shows in how you practice and elsewhere," Dooley said. "I'm hoping we show some improvement in that."
The Nittany Lions probably won't have Joe Paterno explain how to use a loofah, but with Dooley it works. He's established a quick rapport with his players and likes to keep it light.
At a news conference in May, Dooley described the state of the team by saying, "We've got five new offensive linemen, a new quarterback and a brand new running back. Other than that, we're in great shape."
We can't wait for next week when Dooley teaches his team about gingivitis with an epic flossing demonstration.