Jesse Woods is a complicated man, part college athlete, part pained musician.
Coming out of Katy, Texas, Woods was a 6-foot-3, 209-pound wide receiver, talented enough to earn a scholarship to Texas A&M. He was a star at Taylor High School in Katy, a football-crazed city where one high school has won four state championships in the past decade.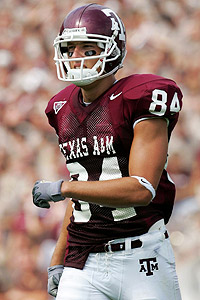 Ronald Martinez/Getty ImagesJesse Woods was a big wide receiver for Texas A&M, but had five surgeries in four years before going a different route.
Now behind the Orange Curtain in Austin, Woods, 27, offers a different profile. He's an up-and-coming singer-songwriter performing what he calls a "dream-folk sound, a mix between a harmonious folk song and country music." His star is on the rise, having played at the prestigious "Austin City Limits" music festival in 2009 and a label showcase at South by Southwest this year.
Woods understands the conflict could be confusing to an outsider. How does a guy who lives in the violent world of major college football transform into making music that he admits is "very gentle"?
"When you go to college and you're playing football, it becomes a full-time job and a way of life," Woods said. "It produces that warrior-type mentality that's the opposite of artistic music.
"Going from high school football when you're playing with all your buds, that kinda becomes your passion and your focal point for everything you do," Woods said. "Coming from a town like Katy, that produces that kind of outlook."
But after five surgeries in four years at A&M, Woods ditched the football career and found himself with a lot of free time during his senior year. He passed the time by getting back to his roots, writing songs in the same vein as the music he'd grown up loving.