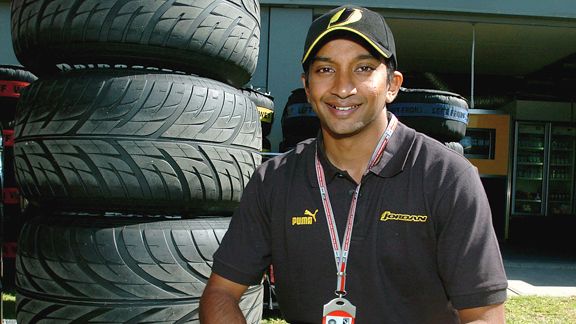 AP Photo/Ross LandStarbeast Motorsports hopes Narain Karthikeyan can tap into India's sports culture.
Narain Karthikeyan wants to compete in NASCAR's Sprint Cup Series.
Along the way, he wants to co-opt 1.2 billion of his countrymen into following stock-car racing.
Karthikeyan became the first India native to break onto the NASCAR circuit in March when he finished 13th in a Camping World Truck Series event. He'll race again on Sept. 25 in the Smith's Food & Drug Stores 350 in Las Vegas.
"I think that NASCAR has a huge potential market in India, and I feel that I have a great opportunity to introduce India to NASCAR," Karthikeyan said. "I'm pretty confident that the Indian will thoroughly enjoy the excitement, adrenalin-charged atmosphere and sheer bumper-to-bumper racing that is NASCAR."
Karthikeyan shares this vision with the man who offered him the chance to drive stock cars -- rookie owner Miguel Abaroa of Starbeast Motorsports. Abaroa plucked Karthikeyan from the Formula 1 circuit with the ambitious goal of tapping into India's sports culture and going global.
"Not only do we want to build a championship-caliber NASCAR team, but we also want to create a bridge between these two countries," Abaroa said. "We want to bring a new option to people [in India] who follow sports."