If you don't know who Chael Sonnen is, it's not for his lack of trying.
Heading into his Aug. 7 fight with Anderson Silva, the little known MMA fighter made a huge splash with his mouth. But it wasn't even his comments regarding UFC that gained the most attention.
In an unbelievable sound bite, Sonnen accused Lance Armstrong of giving himself cancer. But he didn't stop there.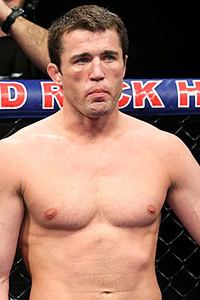 Sherdog.comChael Sonnen talked a lot, got beat, then failed a drug test.
"He actually made himself the victim and then went out and profited something like $15 million from this 'Hey, poor me, let's find a cure for cancer' campaign instead of just coming clean and saying, 'Look, here's what I did, I screwed myself up, and I hope people learn from my mistakes,'" Sonnen said.
As it turns out, he was the pot calling the kettle black. On Sunday, the California State Athletic Commission announced that after Sonnen lost to Silva via tapout he failed his post-fight drug screening. Because his drugs-of-abuse scan was clean, the positive test must have come from a banned performance-enhancer.
Kind of like the ones you say Armstrong allegedly used to give himself cancer, right Chael?
It's a shame that the best thing to happen to MMA since Kimbo Slice got beaten to a pulp in the octagon is too good to be true. Sonnen had already taken back to the airwaves in anticipation of a rematch with Silva, and was taking shots at all the big names.
"GSP, bring your $3,000 suit, bring your $3 date and get the 3-cent tan beat off your socialist back," Sonnen said of Georges St-Pierre.
On one of the biggest and toughest to ever fight in the squared circle, Sonnen said, "If Brock Lesnar was here right now, I'd take my boot off and throw it at him. And he better polish it up before he brings it back to me."
Sonnen, who was winning the Aug. 7 fight against Silva before getting tapped out, couldn't wait for a second chance.
"I don't care how long it goes. I like beating up Anderson Silva. That's the honest truth," Sonnen said. "I like punching him 'cause I know what a bully is. He punched my friends. He beat up two teammates of mine and I haven't forgotten that."
But Sonnen can forget about that rematch. If there's one thing UFC President Dana White hates more than comparisons to Mr. Clean and Andrew Zimmern, it's cheaters.