You're a sports fan, you're getting married, and you want to do something special for your groomsmen. So what do you do?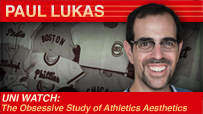 If you're Adam Fritzen, you put names and numbers on your groomsmen's vests and then give them robes based on their favorite teams as gifts.
"I got Kyle Oen at Vintage Minnesota Hockey to do all the sewing of the vests," says Fritzen. "I had him use the L.A. Kings' shiny twill. As for the robes, I bought each one through various outlets in colors based on each guy's favorite team. Then I bought the appropriate patches on eBay and sent everything out to Kyle, who sewed the patches onto each robe, along with names and numbers in each team's appropriate font. It turned out great, although Kyle said he'd never do robes again because they were so thick."
Pretty cool, right? You can see more photos from Adam's wedding in this slideshow: