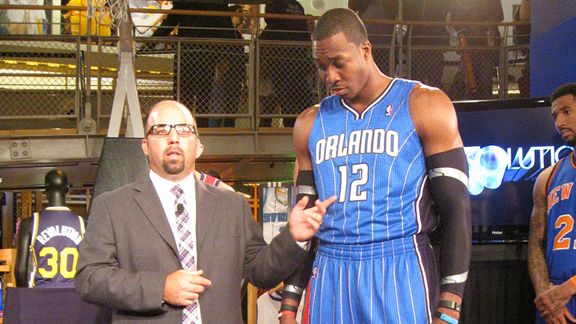 Courtesy Paul LukasDwight Howard and adidas basketball apparel director Travis Blasingame discuss the uniforms.
Well, that's 90 minutes and two subway fares I'll never get back.
Even by the relatively low standards of uniform unveilings, Wednesday's event at the NBA Store in Manhattan was a bit of a snooze. The league and adidas were announcing the advent of the NBA Revolution 30, a new uniform system that every team will be wearing this season. Fans queued up to watch, several NBA players were on hand to model the new threads, and a full media contingent was on hand.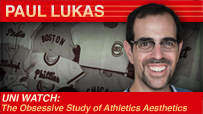 There were some entertaining moments. Everyone cracked up when Dwight Howard did his impersonations of Stan Van Gundy and Charles Barkley, and it was amusing to see Howard serving as a visual aid for adidas basketball apparel director Travis Blasingame (they looked like an extreme version of "I'm a Mac, I'm a PC").
But when it came time to explain what's so revolutionary about the new uniforms, the league tossed up an air ball. We heard the same rote claims that get trotted out at every other uni unveiling: Lighter this, faster that, better performanczzzzzz...
Whoops, sorry, nodded off there for a sec. Memo to the NBA: You can do better than this. A scripted event with a league exec delivering canned corporate-speak about "how excited we are to be partnering with adidas on a global basis" and players mumbling unconvincingly about how the new uniforms "will make us faster, I guess, so it's all good" is no way to showcase a new product to fans.
Fans want to know if the new uniforms will look different, and they want to know about all the new little details. For the most part, none of that info was presented, at least not coherently. Anyone watching the event probably wondered what all the fuss was about.
One exception: adidas basketball apparel director Travis Blasingame did explain that the league's uniform numbers are changing from tackle twill to mesh. Will this really make the torso areas of the jerseys significantly lighter and more breathable, as Blasingame said? Maybe. But they definitely look different. Personally, I like them.
Aside from that, though, there was very little solid info -- which is a shame because the Revolution 30 system actually has some innovative elements worth discussing. I'll cover all of those in a Uni Watch column on Thursday.