Nick Lachey has always been a huge baseball fan, but he recently got his first postseason experience as a team owner.
Last Saturday, Lachey, former boy band singer and reality TV star, was in Memphis with the Triple-A Tacoma Rainiers, a team for which he is part-owner. He stood in the locker room smiling as his players doused each other with bubbly and brew after the Rainiers claimed their first Pacific Coast League title since 1969 by sweeping the Memphis Redbirds in three games.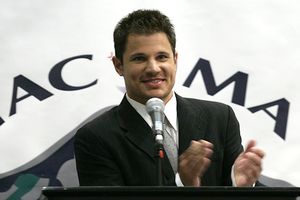 AP Photo/ TED S. WARRENNick Lachey became part-owner of the Tacoma Rainiers in 2007.
By Tuesday night, the love was gone. Tacoma lost 12-6 to the Columbus Clippers for the Triple-A championship.
Hours earlier, Lachey recalled how a kid from Ohio, who grew up a die-hard Cincinnati Reds, Bengals and USC Trojans fan, came to be part of a minor league baseball ownership group in Tacoma, Wash.
Now that is reality TV worthy.
"Time has really flown by," said Lachey, who became part-owner with the Schlegel Sports Group in 2007. "I remember being there to throw out the first pitch and the press conference when we bought the team.
"It's difficult for me not being a local owner, with living out of state and being busy. I don't make it around as much I'd like to. I've just tried to be a supportive voice for this team, and hopefully we've brought some good publicity to the area."
Lachey has been busy with his next album, due out in the spring of 2011. Since parting ways with Jive records, he's become a "free agent" and has started an independent pop music project.