Michael Chiklis has won an Emmy and a Golden Globe, has played a comic book superhero in the "Fantastic Four" movies and has the lead role in a new TV series, ABC's "No Ordinary Family."
But for Chiklis, a devoted Boston sports fan, nothing compares to that one pitch.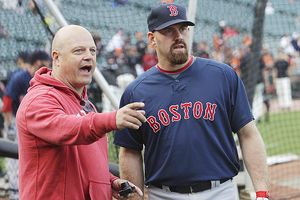 AP Photo/Jeff ChiuMichael Chiklis talks with Red Sox first baseman Kevin Youkilis before a game against the San Francisco Giants in June.
"One of the thrills of my life is when I threw out the first pitch in [a game at] Fenway Park," Chiklis said. "I was more nervous to throw out that pitch, which took one moment, than when I opened a one-man show on Broadway.
"I was literally shaking. It didn't help that an old friend of my brother's from high school screamed at me when I was walking out to the mound, 'Chicky, if you throw a dirtball, you're [expletive] dead!' That didn't help."
He had another pinch-me moment when the New England Patriots asked him to do a voice-over, narrating the team's introduction to the field for Super Bowl XXXIX against the Philadelphia Eagles.
"It was great. It was exciting," Chiklis said. "Will Smith did the one for Philly and then they goaded us into a bet where the guy on the losing side would have to wear a jersey of the other team."
Chiklis' Patriots won, 24-21. "To his credit, he put it on. He put on the [Tom] Brady shirt," he said.
Chiklis, who has played plenty of tough characters in his career, is excited about his new role as Jim Powell in "No Ordinary Family." The show, which airs 8 p.m. Tuesday, is about a family who develops special powers after their plane crashes into remote waters of the Amazon River. Chiklis' character is a police sketch artist with super strength.
"This is family fare," Chiklis said. "There's been a gap in broadcast television since the advent of shows like 'The Shield.' We helped to drastically change the television landscape in that cable really came to the fore following 'The Shield'."