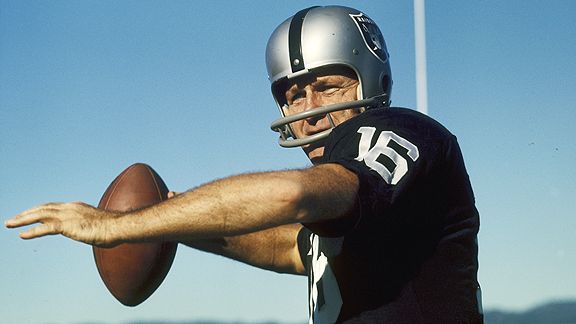 George Long/Getty Images
From his arm to his leg to his sheer longevity, Hall of Fame quarterback and place-kicker George Blanda -- who died Monday at 83 -- was one of a kind. And to his list of accomplishments -- the longest career in pro football history, a onetime-record 2,002 total points scored, oldest quarterback (age 43) to play in a championship game -- add the following: First-ever fantasy football draft pick.
It's true: Long before Chris Johnson, before LaDainian Tomlinson (circa 2006), before live in-stadium fantasy updates and weekly fantasy football television shows and even before rotisserie baseball, there was Blanda. In 1963, a group of Oakland sports journalists and members of the Raiders organization -- including beat writer Scotty Stirling and 20-something team scout Ron Wolf, both of whom later became actual NFL general managers -- participated in what is believed to be the world's first fantasy football league, the Greater Oakland Professional Pigskin Prognosticators League (GOPPPL).
Team owners selected 20 players, primarily offensive specialists, with up to eight players coming from the NFL and the rest coming from the AFL. League scoring was awarded for, well, scoring, with points -- read: money -- awarded for field goals and types of touchdowns. Jim Brown, Lance Alworth, Mike Ditka, Frank Gifford, Abner Haynes and Jack Kemp were among the inaugural draftees, and Blanda went No. 1 -- in fact, he was selected by two different GOPPPL owners, once as a quarterback, again as a place-kicker.
"[The league] was very competitive, and a fun way to spend a couple of hours every Friday having lunch," recalls Wolf, now retired and living in Green Bay, Wis. "It's not something that crossed our mind that [fantasy football] would be something that people would be chomping at the bit to do."
Over time, of course, the game spread from Wolf & Co. to Bay Area sports bars to just about everywhere. As for Blanda? Fantasy football's Draftee X didn't disappoint: The then-Houston Oilers quarterback threw for 24 touchdowns and kicked 24 field goals in 1963, amassing both 1,225 total GOPPPL points and another unique notch in an inimitable football life.