CINCINNATI -- Charity-minded callers are getting intercepted by a sex phone line because of a misprint on
Cincinnati Bengals
wide receiver
Chad Ochocinco
's namesake cereal boxes.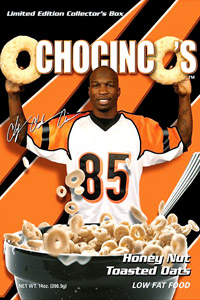 Courtesy of PBLsports.comBecause of a wrong toll-free prefix for a number listed on Ochocinco's cereal, callers are directed to a phone sex line instead of a children's charity.
The phone number is supposed to connect callers to Feed the Children, which benefits from sales of "Ochocinco's".
But because the box has the wrong toll-free prefix, they get a seductive-sounding woman who makes risque suggestions and then asks for a credit card number.
Tara Sands of Reading, Ohio, told WCPO-TV and the Cincinnati Enquirer that her family called the number on the box hoping to learn more about the charity.
"We don't need anything to give our Bengals a bad name, especially Chad," Sand told WCPO. "He's obviously trying to do something great by doing this [for] 'Feed The Children.' "
Ochocinco told WCPO that the number was clearly a mistake and he's sure that the maker will fix the problem.
A woman who answered the phone at Pittsburgh-based PBL Sports, which specializes in such limited-edition products featuring star athletes and their favorite charities, told the Enquirer that the company is looking into the situation.