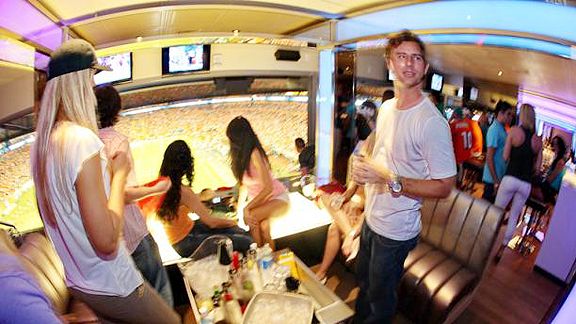 Courtesy of Tomas Loewy The crowd gathered last week at LIV Sun Life, a club inside Sun Life Stadium in Miami.
MIAMI GARDENS -- The South Beach crowd will invade Sun Life Stadium en masse Monday night. Some will enjoy the Dolphins-Patriots Monday Night Football game. But most will be basking in the privilege of watching the game from LIV Sun Life -- an in-stadium version of Club LIV, the hottest nightspot on Miami Beach.
LIV Sun Life debuted with resounding success at last week's home opener against the New York Jets. Among those who stopped by were the Miami Heat Big Three of Dwyane Wade, LeBron James and Chris Bosh. Socialite Kim Kardashian also came in and sat for a while.
"Steve Ross keeps breaking the barrier," said Miami businessman Rodney Barreto, a two-time head of the South Florida Super Bowl Host Committee, "and I think he's hit a home run with this one."
Tickets start at $275-$300 (depending on the opponent) for admission to the swanky club and end-zone seats. There are also pricing packages at $450, $500 and $650.
But why skimp? For $15,000 you can get a 15-person cabana complete with a Dom Perignon magnum, a bottle of premium liquor and beer.