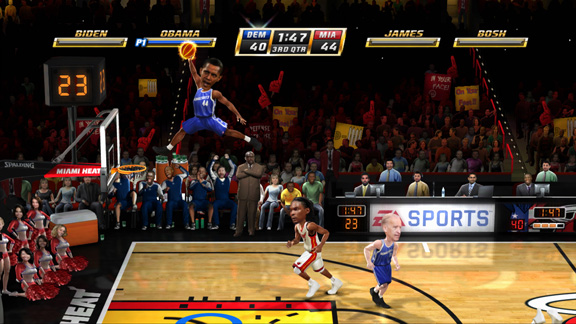 EA SportsExclusive first shot of President Obama in "NBA Jam."
Throughout the history of the "NBA Jam" franchise, some of the most popular players in the game weren't players at all, but hidden characters from politics and pop culture like Bill Clinton, DJ Jazzy Jeff, and even George Clinton.
EA Sports' new "NBA Jam" game for the Wii is about to top them all, however, as in addition to a hidden team of Beastie Boys, there is an unlockable Democrat team featuring President Obama, Joe Biden, Bill and Hillary Clinton, and Al Gore, as well as a team of Republicans that includes George W. Bush, Sarah Palin, John McCain, and Dick Cheney.
I caught up with Trey Smith, Creative Director of "NBA Jam," to get all the dirt on the hidden politicians and various other secret characters in the game.
Only thing Smith wouldn't reveal is how to actually unlock them as EA Sports is being tight lipped on the codes (for now). But if you ask me, it probably has something to do with pressing right or left for the specific political party you want to play as. How many times and what buttons to press? That is going to be up to you to experiment with, but I couldn't figure it out by my deadline.