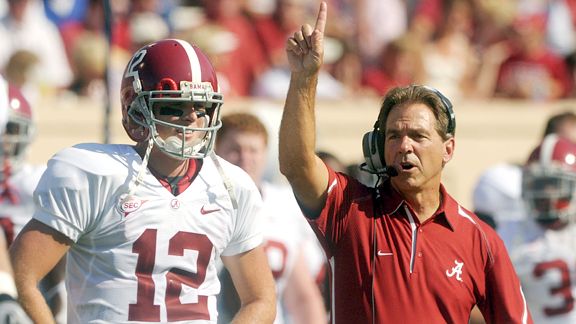 AP Photo/Sara D. DavisQuarterback Greg McElroy has more respect for Nick Saban than people will ever know.
After dismantling Florida last weekend, Alabama travels to South Carolina on Saturday. The Crimson Tide's domination against the Gators showed the talent and depth of their roster and how good of a coach they really have. Nick Saban knows how to prepare for a game like no other. In order to come out of Williams-Brice Stadium undefeated, Alabama will have to rely on its quarterback, Greg McElroy, and its impressive defense.
McElroy joined ESPN Radio with Scott Van Pelt and Ryen Russillo to talk about what impresses him about Saban that the public wouldn't know and what it means to 'play Alabama football'.
What impresses you about Saban that the public wouldn't know:
"As a player, I think when we were first playing at LSU in 2008, Coach Saban's first time back, Coach Saban actually went to one of his former players' high school games, so the thing that impressed me was the fact that Coach Saban still maintains such a relationship with his former players. He just has so much respect for the players and obviously his players have so much respect for him. He comes across as such a difficult person, tough and unwavering personality but he really does have a tremendous amount of compassion for the people that suit up for him because he understands the dedication and the commitment and sacrifice that we all made to play for him."
• Click here for a transcript of highlights from the interview