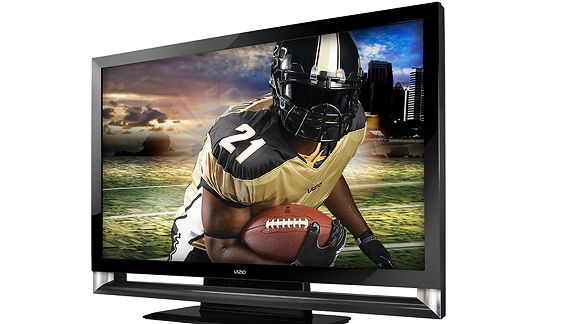 AP Photo/PRNewsFoto/VIZIO
American sports, especially the NFL, seem to be booming. But is most of the booming taking place in your living room instead of your favorite team's stadium or arena? That's the question we want you to answer in this week's top ten list -- "Top Ten Reasons I'd Rather Watch My Favorite Team at Home on TV."
Even the mighty NFL is expecting in-stadium attendance to fall for the third consecutive year as TV blackouts of games in their home regions are increasing due to failure to sell out the "in-person" experience.
Remember 2007? Those were the days. The NFL sold a record 17.6 million tickets for a record game average of 67,755. But our economy was just falling into its depressed state then and attendance started to drop, including a 2.4 percent decrease last season -- although that still was an average of 65,043, which is hardly chopped liver.
And while our economy struggles, the TV experience continues to improve with the glory of high definition and surround sound. Add in factors such as "Red Zone" viewing and most NFL fans can live like royalty in their own den.
It's not just professional football that's challenged. Collegiate football, baseball at all levels and all other sports are finding it increasingly difficult to lure fans away from their home TVs, not to mention the challenge of creating new fans that want to actually attend an event.
Are you happier staying at home? In a recent USA Today poll, 80 percent of those who responded said they'd rather stay home than go to an event or watch in a sports bar. If that's you, we want to know why. What is the most compelling reason for you to watch your favorite sport at home?
Give us your best reasons -- and if they are amusing, all the better -- by sending them to osogreene@aol.com along with your first name, initial of your last name and your location. We will publish the list of "Top Ten Reasons I'd Rather Watch My Favorite Team at Home on TV" on Thursday. You have until noon Wednesday to submit your best shots.