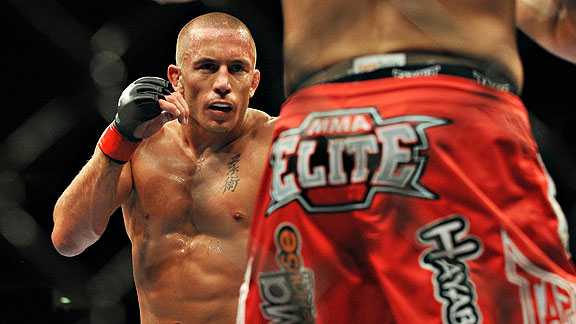 Jon Kopaloff/Getty ImagesGeorges St.-Pierre might be the best welterweight in the world but he's rather talk about dinosaurs.
Georges St. Pierre is a nerd.
Yes, I said it. To his face.
MMA's No. 1 welterweight (20-2) and Spike TV's Most Dangerous Man of 2010 would rather talk science than sports.
"I don't like to tell people that very much, but I am," said the 170-pound, 5-foot-10 Canadian who has been a pro fighter for eight years. "I don't really watch sports. I watch the Canadian version of the Discovery Channel. Ask me a question about the Jurassic period or the Cretaceous period and I probably could answer it."
Uh, what?
"Seriously, I'm into paleontology. That's the study of prehistoric life. I'm into philosophy. And psychology, too," said St. Pierre, who was in Bristol, Conn., Monday to film a TV commercial. "You know that the Tyrannosaurus Rex was found with feathers? Yes, feathers!"
Uh, what?
"You know why we play sports? It's because it goes back to days when we used to fight in the battlefields. We are war-like. It's deep inside us," continued the UFC welterweight champion. "Sports today is the modern way to make war. We're just more civilized."
Uh, what?
"When I train, I love to take time off and fly to the Natural History Museum or an exhibition. I just love that," said St. Pierre, who lives in Montreal. "When you know your past, it will help you with your future."
OK, well …
"That's why most of my friends are not fighters. Most of my friends are nerds like me," he said. "That's why I have a hard time finding a girlfriend. I need someone to talk science with. I'm married to my work right now. But you never know. One day I could wake up and just do something different. Life is so unpredictable."