Drake "bonded" with the Kentucky Wildcats last season, and says he's not jumping off the bandwagon.
The rapper and sometimes singer recently talked with Page 2 about his unique relationship with the hoops squad.
Drake (his full name is Aubrey Drake Graham) first made an appearance at a UK hoops event back at last season's Big Blue Madness event at Rupp Arena. He also was in the stands for the UK versus Louisville game, after which he was a guest of coach John Calipari's postgame radio show.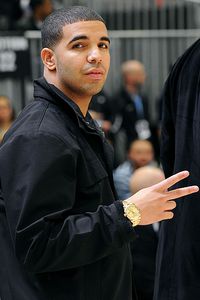 Jason Merritt/Getty ImagesDrake says he "just connected with Kentucky" and bonded with several of the players on last year's team.
He later came back to campus in April for a concert.
Drake has made friends all through the NBA, including LeBron James and Chris Paul.
But he says he became close pals with some of the guys on last season's Kentucky roster, including John Wall, DeMarcus Cousins and Patrick Patterson.
"All of us really just bonded this year. I went to see a lot of the games last season. I'm also very close with Coach Cal, so I just showed my support. I took a lot of planes to see a lot of games," he says, laughing at his own impromptu rap.
Still, why Kentucky? Drake is from Toronto, but his father and the bulk of his family are from Memphis -- where he spent many of his summers.
"Memphis has a great team, but I just connected with Kentucky," Drake says. "I performed there, it was just a lot of energy with myself and the University of Kentucky."
And will the Canadian rapper's loyalty still stay with the team, ranked 11th in ESPN analyst Andy Katz's latest preseason rankings, after the departure of several of the team's stars to the NBA?
You betcha.
"We lost a lot of players to the draft, and I hope they all thrive. And that's what college basketball is all about. Hopefully for a lot of people, it's about that step," he says. "But I'll be there to watch Coach Cal rebuild."