The arrival of LeBron James in Miami has inspired all sorts of enthusiasm.
One of the more creative forms for expression of excitement to pop up is the LeBron James Poetry Contest -- which one of the people behind the idea calls "poetry in motion."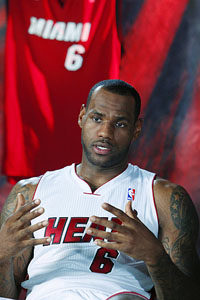 AP Photo/Wilfredo LeeDoes this sight make you burst into rhyme? If so, you should've entered the LeBron James Poetry Contest.
WLRN, the public radio station in its partnership with The Miami Herald joined forces with O, Miami, a poetry festival that is debuting in the city this April, to sponsor the poetic challenge.
"LeBron James coming to Miami is a major event in the history of this city and a story that really resonates with our listeners," said Dan Grech, Radio News Director for WLRN/Miami Herald News, who came up with the poetry idea. "However, radio is filled with sports talk stations. So the origin of this contest was the question, 'How can we cover this major, legitimate, news event in the city in a way that feels consistent with our mission and public radio.
"So the idea was to marry the high art of poetry with basketball, which is poetry in motion."
The contest ran Oct. 14-22. Six finalists and the winner will be announced Tuesday on WLRN as well as in The Miami Herald. The rules required that the poems be no more than six lines long, commemorate the arrival of Lebron James in Miami, and use any standard poetic form (rhyme, haiku, limerick, free verse, etc.)
The winner will be invited to read their poem on WLRN, receives two complimentary tickets to a Miami Heat game during the season, and a pair of tickets to the finale of the O, Miami: A Contemporary Poetry Festival in April.
"It's been an amazing number of entries, it's just spectacular how people have responded," Grech said. "We have more than 600 entries and 27 in Spanish. This has been great because it's finding a way to get people excited about poetry."