FRANKFURT, Germany -- Paul the Octopus, the tentacled tipster who fascinated football fans by correctly predicting results at this year's World Cup, died Tuesday.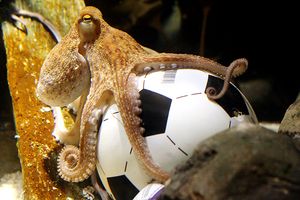 Patrik Stollarz/AFP/Getty ImagesPaul the Octopus, who went a perfect 8 for 8 in World Cup picks before retiring, died on Tuesday at the aquarium in Germany where he lived.
Paul had reached the octopus old age of 2½ years and died in his tank on Tuesday morning in an aquarium in the western German city of Oberhausen, spokeswoman Ariane Vieregge said.
Paul seemed to be in good shape when he was checked late Monday, but he did not make it through the night. He died of natural causes, Vieregge added.
Stefan Porwoll, manager of the Oberhausen Sea Life Center in Germany that housed Paul, said: "We are consoled by the knowledge that he enjoyed a good life here and that the care provided him by our dedicated displays team could not have been bettered.
"His success made him almost a bigger story than the World Cup itself. We may decide to give Paul his own small burial plot within our grounds and erect a modest permanent shrine.
"While this may seem a curious thing to do for a sea creature, Paul achieved such popularity during his short life that it may be deemed the most appropriate course of action."