One can only hope J.K. Simmons yells at his Ohio State Buckeyes like J. Jonah Jameson, the newspaper editor he plays in Spider-Man, yells at his reporters.
The Michigan native moved to Columbus, Ohio when his father got a job on the music faculty at The Ohio State University, and he's been an OSU fan ever since. When asked if it was treason to be born in Michigan and become a Buckeye fan, he said, "Yeah, me and Vernon Gholston. Anybody got a problem with that?" Gholston, the New York Jets defensive end, grew up in Detroit and played at Ohio State.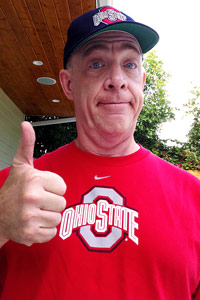 Katie Barry J.K. Simmons is from Michigan but became an Ohio State fan after his dad got a teaching job there.
Simmons, "Law & Order," "Oz," and "Juno" star, follows his team all around the country. After getting late-notice tickets to the coveted Ohio State-Michigan game, Simmons finished up a shoot in New York City at 8 p.m. on a Friday and drove nine hours, getting four hours of sleep, and going to the game. After crowd-surfing for nearly 45 minutes, he recalls, he drove straight back to NYC for a noon obligation.
He's a gamer on all levels. Having played a lot of softball in Seattle, and for 20 years in NYC, he's been coaching his kids' baseball games for the past seven years. "So my recent experience has been on that side of the big-time sports world," he quipped. "I pretty much throw whatever ball my kids want to catch." Lately it's been football, because his oldest son plays on the school flag football team.
As a fan, he values sportsmanship and class acts, but when on set, he swings back and forth between heroic characters and darker roles.
"If I was still playing the head of the Aryan Brotherhood, I think I'd be a pretty dark dude," he joked, reffering to his role as Vernon Schillinger in the prison drama, "Oz."
His character in the 2009 film "Up in the Air" said in an exchange that adults loved athletes because of their ability to hang out with lingerie models.
"No model crush here," he conceded. "My beautiful wife is my crush. She's the Fiona to my Shrek. The thing to love about athletes is a combination of natural power and grace along with a real commitment to maximizing their potential. Natural ability plus work ethic. Guys who have all that and are still reasonable human beings who treat other people well are pretty great."