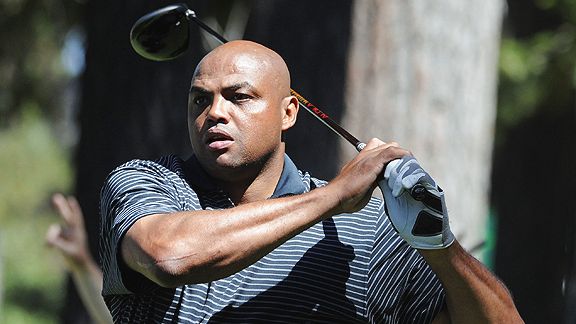 AP Photo/Reno Gazette-Journal/David B. ParkerSir Charles is looking to rid himself of the Round Mound moniker.
Charles Barkley joined "The Dan Patrick Show" to talk about his impressive weight loss, the Miami Heat and how he's trying his hand at playing golf left-handed.
On how much weight he's lost so far:
"I've dropped 45 so far, I've got to lose about 85. I gained 100 that was just fat. It's ridiculous to be that fat and there's so many people out there that are overweight and have diabetes, and I was one of them. So my doctor told me to lose about 85 or 90 pounds. 45 down, 45 to go Dan."
On if there's anything to take out of Miami's loss on opening night to the Celtics:
"Dan, it's game one of the regular season. It don't mean anything. You can't worry about the media, they're idiots Dan, you know that man. They're idiots. It was number one game of the season. I will admit this: we traveled up to Boston for the game, the crowd was incredible, but the game wasn't very good. I mean it was very sloppy. You could tell Dwyane was rusty, and the teams were hyped, you could tell they were a little excited, so it wasn't great basketball. It was a great environment and I was glad the season finally started, because I was sick of talking about LeBron and the Heat all the time. I'm just glad basketball is here."
On if he remembers when the "experts" were saying Kevin Durant would struggle because he couldn't even bench press 135 pounds:
"Well you know, Dan, a basketball's not that heavy. A basketball is not very heavy."
On what it will take for the Miami Heat to not win it all:
"Well, they've got some problems Dan. Number one, I've watched them play twice, first of all they've got to figure out their rotation because their bench is not good enough. He has to keep two of those guys out there the whole time. When you watch them play, he has to have either Bosh, LeBron or Wade out there -- only one is going to get their rest at a time. He can't take all three out of the game, so he has to figure out which two are going to play together at what particular time. And if they don't get any help from their big guys, because they're a jump shooting team. And as great as Dwyane and LeBron are, they're not great jump shooters. But they don't get any easy shots, they've got to speed the game up. If you just make them take jumpers, they're going to have a tough time all year. I mean they're going to win; they're going to win a lot of games all year, but in the playoffs, that's when you will see their flaws."
On the weight loss still not helping his golf game:
"I'm playing left-handed now, I'm a lefty. Dan, I know this might come as a shock to you, but I sucked as a righty."
• Click here for a transcript of highlights from the interview