While on tour, Jason Aldean's schedule pretty much boils down to two things: performing for sell-out crowds and then packing up the bus to head to the next gig.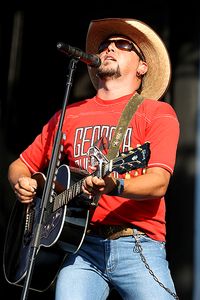 Douglas Mason/Getty ImagesJason Aldean is rooting for his Bulldogs to win a BCS title. Won't happen this year. But he can always dream.
But that doesn't mean that the blossoming country music star can't make the time to do a little tailgating on the side and watch his beloved Georgia Bulldogs.
A native of the Peach State, Aldean was introduced to Bulldogs football at an early age after watching running back Herschel Walker, his favorite player, and quickly assimilated into the religion-like fanaticism emanating each Saturday from Sanford Stadium. Case in point: As Aldean traverses the country in preparation for the Nov. 2 release of his new CD, "My Kinda Party," he does so in a tour bus fully equipped for tailgating.
"Every Saturday, no matter what's going on, I have to be in front of the TV watching the Georgia football game," Aldean said. "So I have a TV my bus that pulls out, and has a big cooler behind it, so it's perfect to just sit out there and tailgate every weekend."
A former high school baseball player, Aldean abandoned dreams of playing in college to pursue a music career, and it's paid off. The 33-year-old Aldean was named the 2006 Academy of Country Music Top New Male Vocalist and his 2007 album, "Relentless," reached No. 4 on the Billboard Top 200.
So, a Grammy or witnessing Georgia winning the BCS title?
"A Grammy would be pretty nice, but I'd probably have to take the national championship," he said. "I'd be cancelling shows to make sure I went to the game."