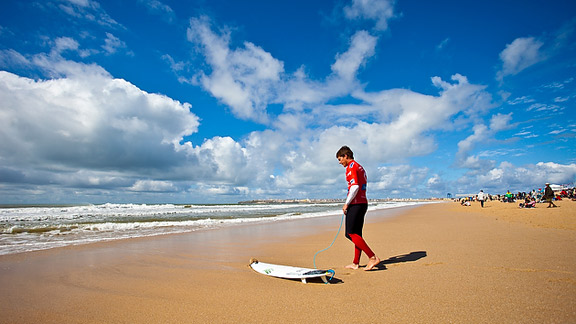 JoliAndy Irons, before the last heat he surfed at last month's Rip Curl Pro in Peniche, Portugal.
A couple of years back, Andy Irons was on a quick, three-day sprint to Baja, warming up before the World Tour contest at Trestles. He brought only one board, a pair of trunks, and a backpack -- living, as they say, free and easy. As he got out of the water after his first session, he was greeted by a group of local kids on the beach. One of them asked Andy if he could have Andy's board, or his sunglasses, or anything. Andy explained that it was the only board he had on him and he needed it for the rest of the trip, but he'd give the kid his t-shirt. The kid's face lit up as Andy happily gave him the shirt off his back.
Andy was a lot of things to a lot of people -- friend, brother, husband, competitor, rival, idol -- but one thing that was universal about him was his generosity. Once Andy became a fixture on the World Tour, en route to becoming three-time World Champion, he would return home to Kauai, roll down to the beach park at Pine Trees and unload boxes of shoes and clothes to the local kids. This eventually morphed into the Irons Brothers Pine Trees Classic, a charity event for all the surf-stoked gremlins on the island. For the better part of 10 years it grew, eventually becoming a fixture on the island's calendar.
Andy was the quintessential story of a local boy made good. Unlike today where 12-year-olds are scouted and promptly signed to big-money contracts, he and brother Bruce grew up in the relative obscurity of the Hawaiian outer islands. The family didn't have much money, but they did have a rich surfing tradition, and his father and uncles and cousins instilled a surfing ethos in him from early on. By 16 he was winning various amateur contests and starting to get noticed. With the attention came sponsorship and his first taste of what was to come.