AKRON, Ohio -- Alder Chapman wasn't torching her LeBron James jersey. Pat Idley wasn't stomping around, cursing the name of the Cleveland basketball star who took flight to Miami. Rose Porter wasn't holding up one of the signs reading "LeBron: On the Way to Miami, Go to Hell."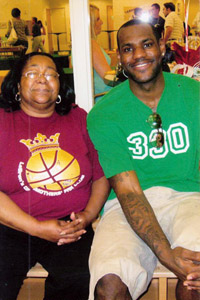 Courtesy of Alder Chapman Alder Chapman, president of the LeBron James Grandmothers Fan Club: "You don't hate someone making a decision in his life."
Grandmothers don't express such sentiments about their grandchildren.
Granted, none of the three are technically James' grandma. Nor are any of the more than 200 members of the LeBron James Grandmothers Fan Club, which Chapman founded in 2006.
Members age in range from their 40s to their 90s and must be real grandmothers. They embrace that role in spirit and action. And their love for James has not dissipated one iota since he announced as a free agent he was packing his bags for Miami.
The vast majority of Cavaliers fans reacted angrily after James announced his decision. They claimed he had humiliated the franchise and the city on national television.
But the love the Grandmothers Club members feel for James never waned. In fact, it now boasts more members than ever.
"If we're his grandmother, we're always his grandmother," says Porter, who serves as the Chairperson of the Mentoring Committee. "You can't just disown him. He's our grandchild and we all just love him. I was hoping he would stick around because he lives in Akron, but we also know that if that's what he wants, that's what we want for him."