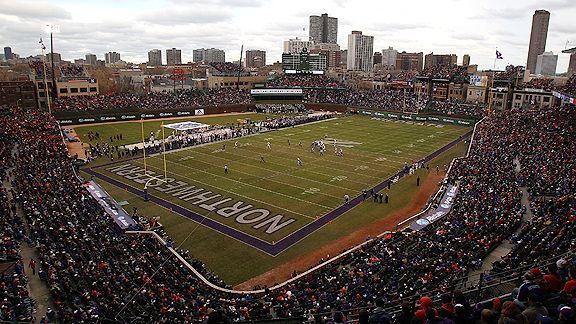 Jonathan Daniel/Getty ImagesHere's a general view as Northwestern takes on Illinois during Saturday's game at Wrigley Field.
CHICAGO -- When Illinois fan Peter Isaac bought a ticket overlooking the east end zone for Saturday's Northwestern-Illinois game at Wrigley Field, he thought he was buying a great view.
Turned out, he and thousands others spent most of the game looking at players' backs.
"I was absolutely angry about it because at every single play the running backs and wide receivers would be running away from me," he said.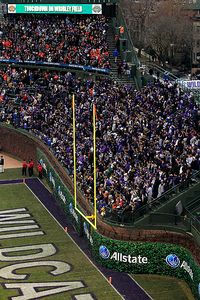 Jonathan Daniel/Getty Images This is the view of the east end zone along the right field wall which was ruled to be unsafe.
The game, which Illinois won, 48-27, was one of the oddest in football history -- and that before it even started.
When it was discovered midweek that a football field would just barely fit into the space at Wrigley, it was decided that the game would be played one way -- and that whichever team had possession would face west.
Translation? All offensive touchdowns would be scored in the west end zone, more than 100 yards from Isaac's seat.
So, when Illinois' Clay Nurse recovered a Northwestern fumble during the first quarter, Illini fans sitting near the right field bleachers overlooking the east end zone had this reaction -- they booed.
"There's no reason why they couldn't have played the game both ways," fan Rob Reich said. "They played old school back in the day."
The decision to play one way was made for the safety of the players, as there was only a sliver of space between the east goal posts and the famed ivy-covered wall. But some fans felt that was plenty.
"It's good for player safety," Northwestern fan Dave Kender said, "but bad from a fan perspective."