With all due respect to the populous school of MTV's "Real World" alums, perhaps, nobody has used the odd celebrity attached to former cast members as successfully as Michael Mizanin, aka "The Miz" from "Real World Back to New York." The guy we used to watch drunk-wrestling with his shirt off every other episode of "Real World/Road Rules Challenge" recently became the WWE world champion.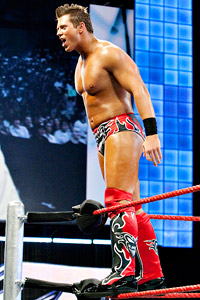 Courtesy of WWEMike Mizanin has parlayed appearances on MTV's "Real World" into a pro wrestling career.
Mike came up with the nickname and created the character for The Miz on "Real World" back in 2001 ("I'm kind of an annoying guy," he told Page 2. "But, gradually people started enjoying me because I created this character, The Miz. After a while, people started to like the Miz more than they liked Mike"). And now, less than 10 years later, The Miz is a WWE superstar.
During those 10 years, The Miz dropped out of college to go to L.A. and take Ultimate Pro Wrestling training, toured the independent wrestling circuit with Deep South Wrestling and Ohio Valley Wrestling, perfected his moves like the Mizard of Oz and Reality Check and finished as a runner-up on WWE's "Tough Enough" competition. When WWE finally came calling, it was with an offer to be a host ("I wanted to be Hulk Hogan and they told me they wanted me to be WWE's Ryan Seacrest").
He was called up after six months of hosting, but still had more dues to pay. He said his peers kicked him out of WWE locker rooms for six months for, get this, eating a piece of chicken. One time he had to use the public arena bathroom in full costume.
"Not to just the audience, but to the guys in the locker room, I was the annoying jerk that wasn't supposed to be there," he recalls. "I was the reality schmuck that got a contract."
Within two years, though, The Miz went from WWE "Smackdown" to "ECW" to "Raw" and then , on July 18, he won a "Money in the Bank" ladder match to win a contract for a WWE Championship match. He cashed it in months later beating Randy Orton for title. Now he's at the point where folks are recognizing him more as The Miz from WWE than Mike from "Real World."
Now that The Miz has the belt, the dude is planning big things.
"When fans think WWE, I don't want them to think Hulk Hogan or The Rock or Stone Cold Steve Austin or John Cena -- I want them to think of The Miz," he said. "I want to be on every show. When we need a guy to do Conan or Jimmy Kimmel, I want them to call me. I wanna be on the cover of all the video games. I want it all."