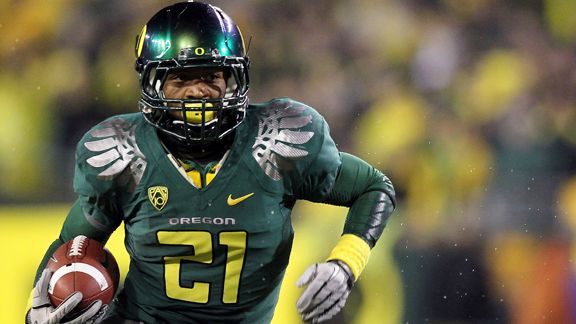 Jonathan Ferrey/Getty ImagesLaMichael James and Co. will get a brand new look for the BCS Championship game.
Twelve games, 12 different uniform combinations.
Why stop now?
That's apparently the thinking at Oregon and at the Nike offices. With the Ducks slated to appear in the BCS title game next month, Swoosh Inc. is planning to unveil a new Oregon uni design for the big game. The unveiling, which is scheduled for Tuesday, will also feature new bowl game uniforms for TCU, Boise State (maybe it will include this white helmet design that's been making the rounds?), and Florida. But it's safe to say that most of the attention will be focused on Oregon.
For all the chatter about Oregon's outlandish uniforms, their current set with the winged shoulders is actually one of the better looks in college football. Will their Glendale uniform continue this move toward visual respectability, or will they revert to their video game look of a few years ago? What do you think?
Whatever the new design turns out to be, Page 2 will be on the case. I'll have an entry here on the Page 2 Blog soon after the unveiling tomorrow, along with a full-length Uni Watch column on Wednesday -- stay tuned.