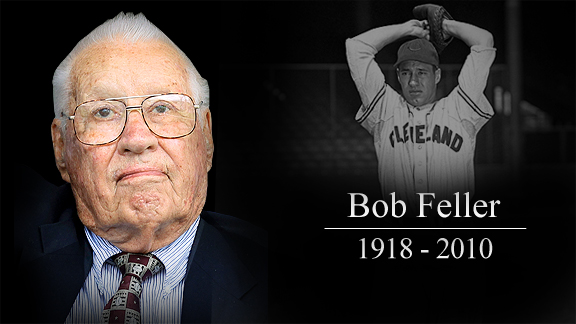 ESPN.com
I don't have many autographs. As a kid growing up in a small town, I didn't have the opportunity to get them, and as a sportswriter, asking players for autographs is strictly verboten.
One of the few autographs I have, however, is an old baseball signed by Bob Feller. It was the first I ever received.
I got it when I was 9 years old and my parents took my brother, John, and me to a Portland Beavers minor league game where Feller sat in the grandstand and signed autographs. I don't remember Feller charging individually for the autograph -- I can't imagine my dad paying for one at that time -- but I assume the team paid him for his appearance. We handed him a hard rubber baseball, the only kind we had because it held up through wet Pacific Northwest springs, and he signed it.
My brother and I were young, but we were also big baseball fans, so we knew getting Feller's autograph was a big deal. But we also needed a ball to play with, so we played with it over the years. We usually used rubber balls and tennis balls in the backyard to limit damage (to the house and ourselves) but we played catch with the Feller ball and batted it around when we were at a field. It got a fair amount of use, but like I said, it was made of hard rubber and held up so well I wish the tires on my car were made of the same stuff.
After years, the ball turned a dirty gray with plenty of abrasions and pock marks, but you still could always read Feller's autograph. Even now, I can still easily read his clear, well-formed signature; Feller might have been the first player to ever use a sharpie for a reason other than marking laundry.
Feller signed so many autographs -- as Rob Neyer writes, he may have signed his name more times than any athlete in history -- that a Feller autograph was never financially valuable. The joke was that a ball not signed by him was rarer and more valuable. So it doesn't bother me we played with that ball. By throwing it around, I think we got something much more valuable out of it -- we developed our pitching arms. Which means, in a way, one of the best pitchers in history helped us pitch, which is a heck of a lot better than having some well preserved baseball I could sell on eBay.
• Also see: Hall of Fame pitcher, Indians legend Bob Feller dead at age 92