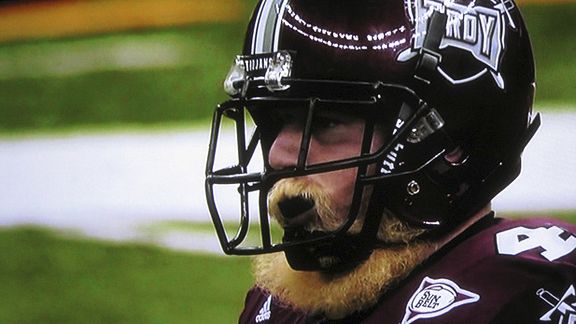 ESPNFootball fans marveled at Will Goggans' beard in Saturday's R+L Carriers New Orleans Bowl.
This time of year, it's not unusual to see someone dressed like Santa Claus in the stands at a football game. It is, however, unusual to see someone that looks like Santa playing in the game. Unless one of the teams is Troy.
The Trojans' punter, Will Goggans, became an Internet sensation during Troy's 48-21 victory over Ohio in the R+L Carriers New Orleans Bowl on Saturday night. Apparently, people like their punters to look like middle-aged lumberjacks.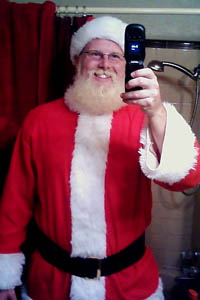 Courtesy of Will GoggansGoggans captured his full Santa transformation.
The 6-0, 220-pound junior from Douglas, Ga., said he committed to the beard last summer, saying he wanted to go as long as he could without shaving. His teammates and coaches have just had to live with it.
"They pretty much have given me grief about it all season," Goggans said. "It's not the most attractive thing, but I've enjoyed it."
And what is with that color?
"It's as light as we could get it," Goggans said. "It took about 3 hours in a salon to get it like this. It's not white white, but it's as light as I could get it."
Goggans dyed it to visit a Christmas party at a youth home in Troy, Ala. As part of the New Orleans Bowl trip, the school set up a visit for him to a children's hospital in New Orleans as well.
"The kids loved it. They thought I was Santa Claus, they wanted to talk to me," Goggans said proudly.
Once he appeared on the ESPN telecast, Twitter was afire and Facebook aflutter. The blogs took notice.
Goggans said he didn't have any idea that his beard went viral until the team arrived back in Troy. "I got on the Internet, and my Facebook had blown up," Goggans said. "I had like 50-60 friend requests."
He's considered trimming the beard, but with the reaction, he said, "I don't know if I can do that anymore."
"Normally when I go out in Troy, people are used to the beard by now," Goggans said. "We went out in New Orleans, where people haven't seen it before, and they were just in awe of the beard."
Except for one group.
"Surprisingly, no, I don't have a girlfriend," Goggans said, laughing. "I'm surprised girls don't flock to it."