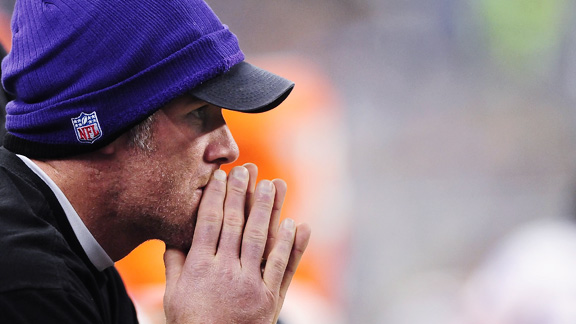 Andrew Weber/US PresswireMinnesota Vikings quarterback Brett Favre sits on the sidelines against the Detroit Lions at Ford Field.
Another year, another Brett Favre retirement claim. Oh, sure: the Minnesota Vikings quarterback says he's walking away from pro football. Really. For sure. This time for good. Honest.
Thing is, he's said that before. How often? Play our below match game and find out:
Quote
1. "If I had to pick right now and make a decision, I'd say I'm not coming back."
2. "If today's my last game, I want to remember it. It's tough. It's tough. I'll miss these guys, I'll miss this game."
3. "I have family and friends who are like, 'All right, Brett. Is this [retirement] the real deal?' To me, it is. It is. Believe me."
4. "It's been a great career for me, but it's over."
5. "[I have] no intention of returning to football."
6. "[Staying retired] was the hardest decision I've ever made. I didn't feel like physically I could play at a level that was acceptable."
7. "This is it."
8. "I know it's time, and that's OK. It is."
Year
a. March 2008
b. December 2006
c. April 2009
d. January 2006
e. February 2009
f. January 2011
g. August 2010 (text message)
h. July 2009
Answer key: 1, d; 2, b; 3, e; 4, a; 5, c; 6, h; 7, g; 8, f