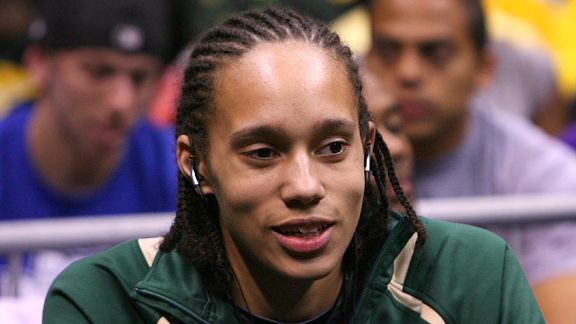 Kelly Kline/Icon SMIBrittney Griner spends a few minutes to answer some off-the-wall questions by espnW.
In the Pro's Questionnaire, our favorite sports figures take an abridged version of the most famous personality test, the Proust Questionnaire. Our latest victim: Baylor hoops superstar Brittney Griner, whose shot-blocking and dunking ability, combined with an 88-inch wingspan, make her one of the best players in women's college basketball.
Your main fault:
Brittney Griner: I'm hard headed.
Your ideas of happiness:
BG: Everyone in my family healthy; play ball the rest of my life.
Your idea of misery:
BG: Not being 6-8.
If not yourself, who would you want to be:
BG: LeBron James.
Your favorite food/drink:
BG: BBQ and Big Red.