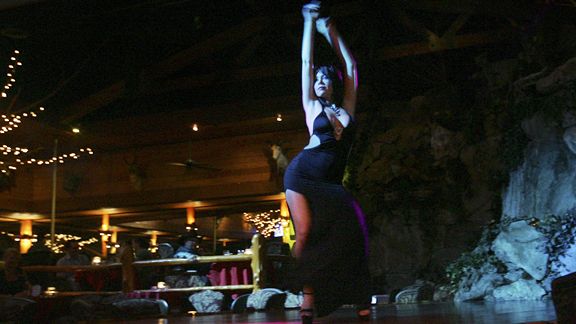 AP Photo/LM OteroDancers who flock to Dallas might find the trip to be a total bust.
Attention, America: the greater Dallas metroplex needs you.
To take off your clothes, that is.
According to reports, a North Texas strip club manager is attempting to hire roughly 100 additional exotic dancers to handle -- excuse us, wrong choice of words; after all, no touching allowed! -- a Super Bowl-induced rise in demand. Moreover, the same manager estimates that due to the expected influx of big game visitors, the 60 gentlemen's establishments in the Dallas area are about 10,000 strippers short.
Look, Page 2 loves a sensationalistic sex-themed story as much as the next web site. Just so long as said tale actually passes some sort of smell test. Which the Great Dallas Stripper Shortage story flunks. Like, a skunky F-minus.
First, do the math: the Super Bowl is expected to draw about 150,000 outside visitors. Business boom for all, right? Not so fast. Academic economists claim visitor spending predictions of $200-$600 million are wildly inflated. Only half of the region's 90,000 hotel rooms are expected to be occupied during the four-night peak period around the game. And even if some Green Bay and Pittsburgh fans show up with cash-stuffed garbage bags in hand, ready to make it rain harder than a Category Five hurricane, is the Dallas area really going to need one extra stripper for every 15 visitors, a ratio to shame exclusive private school classrooms?
We think not.
Still, don't take our word -- and back-of-a-napkin calculations -- for it. Consider history. Prior to last year's World Cup, a reported 40,000 prostitutes supposedly were descending upon South Africa, expecting brisk business from 450,000 soccer fans. So what happened? The sex business boom flopped. Big time. Fans went to games. Museums and art galleries were packed. Meanwhile, the owner of a Johannesburg escort agency told CNN that the tournament was "devastating" and the "the worst month in my company's history."
Will the Super Bowl mark the worst week in Dallas strip club history? Probably not. Evidence suggests, however, that it won't provide much of a boost -- and that the primary devastation wrought by irresistible headlines such as STRIPPER SHORTAGE! is to journalistic common sense.