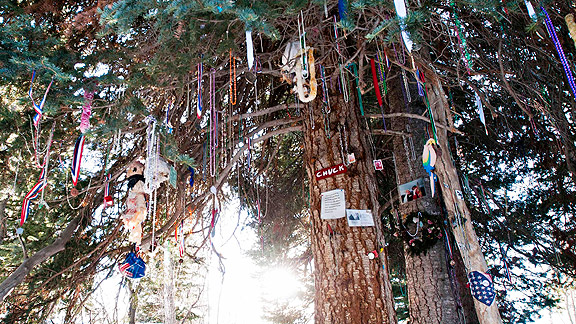 Bruce Carver The "Chuck Severy and Todd Olson Shrine" at Buttermilk Mountain.
ASPEN -- In this region of the country, it's not unusual to see makeshift shrines at the top of mountains for celebrities such as Jerry Garcia, Elvis Presley and even Marilyn Monroe. People usually leave photos or other mementos to honor the passing of the star.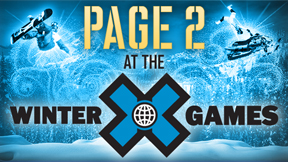 "The shrines are so organic to these mountains," said Jeff Hanle, director of public relations for Aspen Snowmass, the company in charge of the mountain. "There are small shrines and pretty big ones. They are ways for people to honor someone special. We do our best to make sure people leave them alone so they can be enjoyed by others."
But, at Winter X 15, the athletes head down Buttermilk Mountain, and there is a shrine near the top honoring two former ski instructors. It's called the "Chuck Severy and Todd Olson Shrine", and it's all contained on one tree at Buttermilk.
A sign posted on the tree says: "This is a memorial in honor of Uncle Chuck and 'Toad', two kids' ski instructors who died of cancer. Please respect their spirits and do not disturb anything. Thank you."
Beads, pinata figures, a parrot. It's all there. The shrine is located near the top of the mountain. We give you a quick peek.
• Buttermilk Mountain Photo Gallery