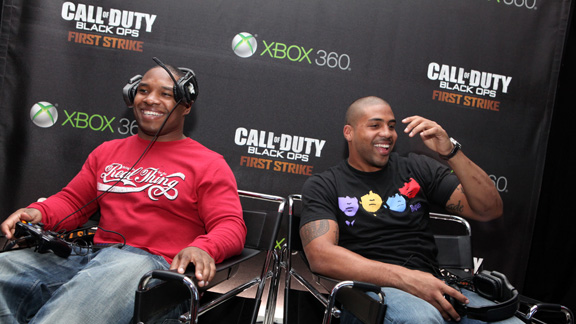 ActivisionMaurice Jones-Drew and Arian Foster spend the day dodging polygonal bullets in "Black Ops."
"You get to shoot people without really shooting people," Texans running back and "Call of Duty" fanatic Arian Foster says with a laugh about his love for Activision's popular video game franchise.
Foster spent the day getting to know the game's developers as he and fellow "Call of Duty" obsessed running back Maurice Jones-Drew met down at the Treyarch studio in Santa Monica, California to feed producers ideas about the future of first-person shooters, while at the same time, taking shots at each other in the new "Black Ops" First Strike maps that were released earlier in the week.
"What I love about 'Call of Duty' is the fact that it allows gamers to compete against other gamers all across the world," Jones-Drew explains, talking about why he thinks the franchise has become such an overwhelming pop-culture phenomenon. "I have friends that I play with in Japan, I have friends that I play with over in London, and I have a couple of guys that I play with from South America as well, and getting to know all of these people from all over the world really gives you a different perspective on life.
"I just had knee surgery, so I've been on 'Black Ops' the last couple of weeks non-stop just destroying people. I guess knee surgery has its ups and downs, but one of the ups is that I get to play video games without being yelled at by my wife, so it's all good."
So just how long is "non-stop" to MJD?
"I play for seven to eight hours," he admits. "I just play. I don't even worry about the time I sit in a dark room."
Foster says he also plays as much as he can, including his own eight-hour marathons. "It's part of who we are, part of our culture," he says. "We're just always playing video games."