LAKE BUENA VISTA, Fla. -- Chasing a pennant isn't as nerve-racking as waiting to hear whether you've won a Grammy. Trust that, coming from the one MLB star who has endured both experiences: former New York Yankees center fielder and four-time Gold Glove Bernie Williams.
"The Grammy was worse, because it [nomination] was the first time," said Williams, the 1996 ALCS MVP. "The pennant, you can actually pace yourself, control how nerve-racking it is. The Grammy was just one moment."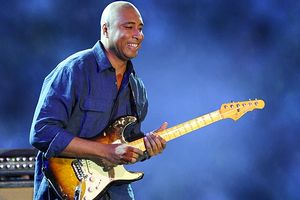 Courtesy of Bernie WilliamsBernie Williams was recently nominated for a Grammy and has a new book coming out.
Williams was at ESPN the Weekend for three days with his band, Bernie Williams & the Pinstripes, the four-time World Series winner's instrumental group that for The Weekend included a vocalist.
A Latin Grammy nominee in 2009, Williams is an accomplished classical guitarist and composer. The band's daily performances at The Weekend have included at least one original song. The Pinstripes started out at the Weekend last year, when they were approached to be a sort of sidekick band for Baseball Tonight, like Paul Shaffer & the CBS Orchestra on the "Late Show with David Letterman."
ESPN the Weekend was also a perfect venue for Williams to talk about his book, coming out in July. Rhythms of the Game: The Link between Musical and Athletic Performance delves into the symbiotic relationship of the two worlds.
"It talks about the parallel mind-sets, as far as performing," he said. "Artists on the stage and professional athletes on the field, there are a lot of things very similar -- discipline, work ethic and performing under pressure, not dwelling on mistakes. Sports and especially baseball is all about rhythm, and the rhythm is so intricate in music."
Ironically, Williams' MLB at-bats were set to no music.
"My music was the noises from the crowd, the sounds of the game," he said. "Outside of that, to me it was just too distracting."