Frederic Weis, the 7-foot-2 French center who found himself on the wrong end of a Vince Carter dunk in the 2000 Olympics, retired Thursday at age 33 because of knee problems.
It's probably not a bad move, considering he had scored seven points in his past seven games with French club Limoges. He averaged 1.6 points and 2.7 rebounds per game this season.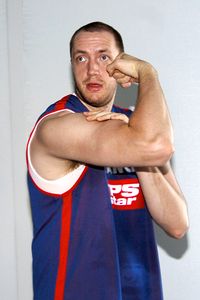 Jean-Pierre/Getty ImagesTake care of those sweet biceps, Frederic. You never know when you might wind up on a poster.
Still, he's best known as the victim of Carter's stunning dunk at the Sydney Games, a stuff that was equally impressive in English and in French.
Don't forget, however, that the Knicks selected Weis No. 15 overall in the 1999 NBA draft -- one spot ahead of hometown baller Ron Artest. Considering that Weis never appeared in a single NBA game, Page 2 looks back at a few of the players picked after him in that draft who would've been better choices.
• No. 16 overall, Artest: Halftime sips of Hennessy notwithstanding, Ron-Ron has been an impact player throughout his pro career.
• No. 21 overall, Jeff Foster: A serviceable big man still playing in the NBA today.
• No. 22 overall, Kenny Thomas: Former New Mexico forward enjoyed a solid 11-year career with Rockets, 76ers and Kings.
• No. 23 overall, Devean George: Played 11 NBA seasons, won three rings with Lakers.
• No. 24 overall, Andrei Kirilenko: Hopefully time has healed the wounds of Knicks fans.
• No. 41 overall, Francisco Elson: Another serviceable post player who remains active.
• No. 45 overall, Ryan Robertson: Former Kansas guard scored five points in his only NBA game -- but still an awesome pick compared to Weis.
• No. 57 overall, Manu Ginobili: That Weis pick is looking worse and worse, isn't it?
Ultimately, Weis reminds us what an abject disaster Scott Layden was as general manager of the Knicks ... even though Isiah Thomas made him somewhat forgettable by comparison.
So adieu, Frederic. If by any chance you're reading this, can you please tell us the French word for "stiff"?