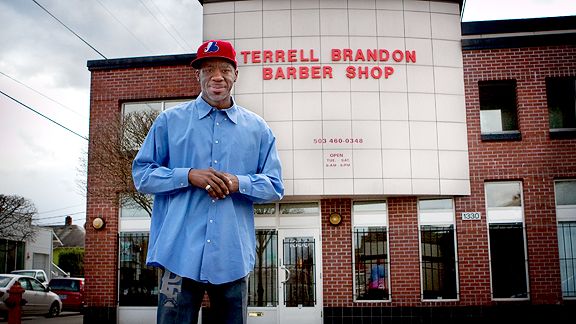 Patrick Ulch Former NBA All-Star Terrell Brandon opened his shop in his old neighborhood in Portland.
Take a peek into a barbershop in northeast Portland and you'll see an unlikely sight: Two-time NBA All-Star Terrell Brandon sweeping up hair clippings and taking out the trash.
Such is life when you own your own shop.
"A normal day for me, I'm usually in the barbershop chilling out and taking care of business just like any other barbershop," said Brandon, who spent 10 years with Cleveland, Milwaukee and Minnesota. "It makes people feel comfortable that they can come in and get a haircut -- and some people just want to come in and hang out.
"I like that atmosphere."
Brandon, 40, opened Terrell Brandon's Barbershop in a corner brick building on Alberta Street, in one of Portland's poorest and most racially diverse neighborhoods. The gathering place with the bright orange letters out front now anchors what has become a trendy neighborhood complete with wine bars.
It is one of several ventures, under the "Tee Bee Enterprises" umbrella, that includes a retail clothing store, Brandon's concert promotions and community outreach programs.
Brandon's desire to open a business started when he was at Harriet Tubman Middle School in northeast Portland, when he was trying to perfect his autograph.
"I used to write my name over and over again, and that led me to thinking about what I wanted to do with my life," he said. "I knew I wanted to own something of my own one day. It really is a dream come true."