Dallas Mavericks backup point guard J.J. Barea arrived nattily attired and fashionably late to Jason Kidd's Charity Casino Night last week. When he walked through door, heads turned as if on a swivel.
But that's protocol when a Miss Universe walks into a room -- arm-in-arm with her basketball-playing boyfriend.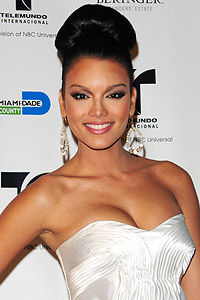 Vallery Jean/Getty ImagesZuleyka Rivera, who was crowned Miss Universe in 2006, is dating Dallas Mavericks point guard J.J. Barea.
Listed graciously by the Mavs as 6-feet tall, but really pushing 5-10, Barea already has beaten the odds on the hardwood in his fifth NBA season. And now he's got a good thing going with fellow Puerto Rico native Zuleyka Rivera, who is Miss Universe 2006. For competition purposes, she's listed at 5-9.
"She has NBA League Pass now," Barea said, smiling. "She watches our games. It's pretty good, man."
The six-month relationship has heated up the past couple of months, said Barea, who first made contact with the NBA's newest fan in September, about two weeks before he returned to Dallas from Puerto Rico to report to Mavs training camp.
Barea, who is averaging career highs of 9.0 points and 3.6 assists, had met Rivera briefly at a few celebrity events in Puerto Rico. So when he heard that she had broken off a long-term relationship a little while back, Barea figured it was time to stop dribbling and make a pass.
How does one go about contacting Miss Universe?
"Text message," said Barea, who did his own reconnaissance work to obtain her phone number. "I sent her a message to say hi, something simple like hope you're doing good."
She was. But, she was also in Miami, where she lives and works as an actress, starring in telenovelas.
They began to talk via telephone and texts, and Rivera invited him to Miami before he headed to Dallas.
"It was an awesome first date," Barea said. "We took a private boat in Miami Beach and then went to a restaurant and hung out. Then I had to go to Dallas the next day."